Icom IP730D (VHF) IP740D (UHF) - Hybrid LTE <-> VHF/UHF (Full Duplex LTE)
Icom IP740D Hybrid Radio, UHF IDAS/LTE inkl. BP-303
Hybridradio for lokal og landsdekkende samband i samme enhet
Velg modell:

IP730D - VHF & LTE
IP740D - UHF & LTE
NB radioen krever Icom LTE abonnement (SIM kort) for å fungere som LTE radio
Håndterer både analog kommunikasjonm på UHF eller VHF båndet og LTE radiosamband samtidig


PTT1 - LTE samband
PTT2 - UHF eller VHF samband



 Dual-mode - kan ta emot både samtal från en LTE-radiogrupp och analogt samtal samtidigt.
Ljudet blandas i radion om 2 samtal kommer samtidigt.
Du kan trycka på antingen huvud-PTT för ett LTE-samtal eller sekundära
PTT-knappen för att sända på analog kanal.
Om det behövs kan du trycka på huvud- och sekundära PTT-knapparna för att samtala med två grupper samtidigt.
Bridgeing - Bridge-funktionen vidarebefordrar mottaget IDAS digitalt ljud till LTE-radiogruppen, medan LTE-radiosamtal överförs till IDAS-gruppen. Denna funktion är användbar när du kommunicerar utanför LTE-servicetäckningsområdet med en IDAS-radio eller tillfällig tvärbandsanslutning mellan två IDAS-radiogrupper med olika frekvenser eller kanaler.
Två PTT-knappar; huvud-PTT-knappen och den undre sekundära PTT-knappen. Du kan använda en för LTE-kommunikation och den andra för en analog kanal. Sub-PTT-knappen erbjuder smidig växling mellan att prata på LTE- och IDAS/analoga kanaler.
Innovative LTE Radios with Licensed Professional Radio Mode for Increased Capacity and Coverage
The IP730D (VHF) and IP740D (UHF) are dual mode "hybrid" radios that provide nationwide coverage over LTE networks and conventional VHF/UHF professional radio mode (IDAS™ digital/analog mode).
Dual Mode
The IP730D series can receive both communications from an LTE radio group and IDAS™ (or analog) group at a time (audio mixed). You can press either the main PTT for LTE or the sub PTT button for IDAS™ or analog channel to answer in accordance with pre-programming. If necessary, you can press the main and sub PTT buttons to address two groups at the same time.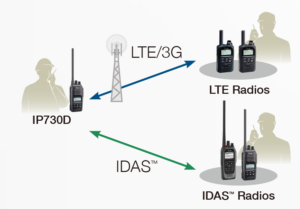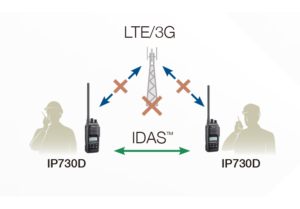 Bridge Function
The Bridge function* relays received IDAS™ digital audio to the LTE radio group, while transferring the LTE radio conversations to the IDAS™ group. This function is useful when communicating outside of the LTE service coverage area with an IDAS™ radio, or temporary cross band connection between two IDAS™ radio groups using different frequencies or channels.
(Not available in Analog mode).
* When using the Bridge function, operating time will be shorter and output power of the IP730D/IP740D is reduced to 1 W.
The Bridge function may be prohibited in some countries. Please check the legal requirements in your country before using this function.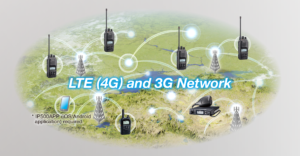 LTE Mode
LTE mode provides secure private push-to-talk communication over an LTE (4G) and 3G network*. The cellular network provides coverage into building basements or high-rise floors where conventional radio systems may not reach.
*(Available depending on the country of use. Sim card required according to our usage offers, details can be obtained from our specialist retail partners.)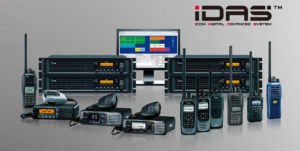 IDAS™ Mode
IDAS™ digital mode is a conventional VHF/UHF radio mode using licensed professional radio channels. It also provides Individual, Group and All calls with PTT operation. When operating in remote, mountainous areas, 4G/3G networks may not be available. Conventional VHF/UHF communications provide a stable, local alternative.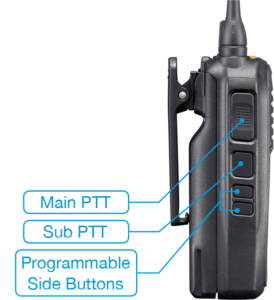 Sub PTT Button for Dual Mode Operation
The IP730D series has two PTT buttons; the main PTT button and the sub PTT button. You can use one for LTE communication and the other for an IDAS™/Analog channel. The sub PTT button offers smooth switching between talking on LTE and IDAS™/Analog channels.
Full-Duplex Communication in LTE Mode
The IP730D series provides full-duplex operation in LTE mode. This allows you to talk and receive at the same time, much like a telephone conversation.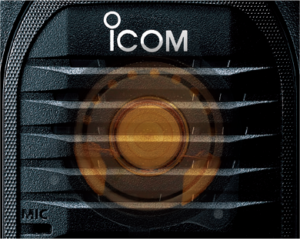 1500 mW Powerful Audio
Icom's custom high-power capacity speaker delivers a loud 1500 mW* audio output with improved acoustic sound clarity for noisy environments.
* Typical at 10% distortion.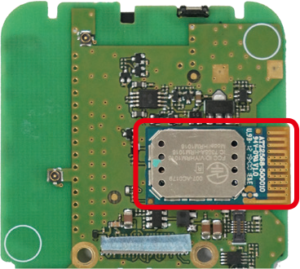 Built-in Bluetooth® Technology
Built-in Bluetooth® capability provides wireless operation with a Bluetooth accessory. The optional Bluetooth® headset, VS-3 has PTT and programmable buttons.
GPS Data Transmission Capability
The IP730D series has a built-in GPS receiver that can automatically transmit position data at programmed intervals*. (LTE mode only)
* GPS mapping software is required separately.
(Not supplied from Icom Inc.)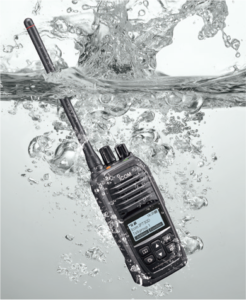 IP67 Waterproof and Dust-Tight Specification
The IP730D series is durable enough to endure water pressure under 1- meter depth for 30 minutes, and has dust-tight protection. The radio meets MIL-STD-810 specifications.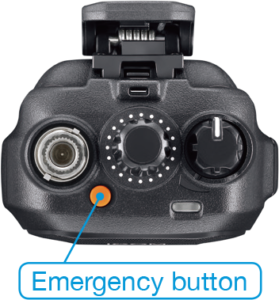 Emergency Call Features Specification
By holding down the orange emergency button, you can transmit an emergency call. In addition, the radio has three emergency related functions: Man Down, Lone Worker and Motion/Stationary Detection functions. If one of these functions is activated, the radio automatically transmits emergency signals to alert your controller or dispatcher of any potential trouble.
(Common to LTE and IDAS™ mode)
Digital Voice Recording/Playback
The IP730D series can record incoming calls of up to 4 minutes, or a maximum of 10 messages, and the user can check recorded communications.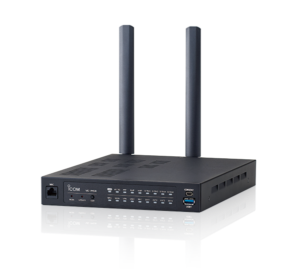 RoIP Gateway to Link to Other Systems
With the VE-PG4 RoIP gateway, the IP730D series can interconnect with an IP phone and various radio systems including WLAN radio, satellite PTT, LTE, IDAS™ and analog radios.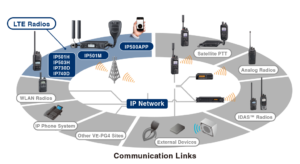 Other Features
General Features: 136 – 174, 350 – 470, 400 – 520 MHz versions | 128 Channels/8 Zones | Rotary encoder with channel announcement function*1 | DTMF code transmission with optional DTMF microphone, HM-245T*2 |  Vibration alert function | Surveillance function | AquaQuake™ function prevents audio degradation from a water-logged speaker
IDAS™ Operating Mode: NXDN™ conventional | NXDN™ multi-site conventional over IP network | IDAS™ digital simulcast
IDAS™ Digital Functions: Over-the-Air Programming (OTAP) function updates the radio configuration over the LTE | Over-the-Air Alias (OAA)*1 displays the caller's name without programming | Up to 500 ID numbers for IDAS™ mode can be saved in the Call List to show the alias name | Individual, Group and All calls | Digital voice scrambler (15-bit encryption) | Talk back
Analog Functions: CTCSS and DTCS | 12.5 kHz channel spacing
*1 These functions will be available with future firmware upgrades.
*2 DTMF microphone, HM-245T will be available later.
Supplied Accessories
Battery pack BP-303 | Belt clip MB-133
RADIOKOMMUNIKASJON
UHF (400-470 Mhz)
VHF (136-174 MHz)
4G LTE
VANNTETT
MIL-STD (RUGGED)
GPS POSISJON
MAN DOWN
LONE WORKER
NØDKNAPP
PRIVATSAMTALE
HØY KRYPTERING
GPS FUNKSJON
IP67 (VANNTETT)
LONE WORKER
MAN DOWN FUNKSJON
NØDKNAPP
OTAP
MARINE & OFFSHORE
VEKTER & VAKTHOLD
KATASTROFEBEREDSKAP
SØK PRODUKTER MED SAMME EGENSKAPER